Stranger Things season 3 was officially confirmed by Netflix late in 2017, and the news certainly didn't blow anyone's minds, considering that the show has become a certified pop culture phenomenon that elevated itself and the aggregate of the streaming giant's original content lineup into the stratosphere.
Filming has now wrapped on season 3, as confirmed by stars David Harbour (Chief Hopper) and Millie Bobby Brown (Eleven) over on Instagram:
A first proper teaser was released earlier in the year, and got us in the mood to belt out a fine chorus of 'Let's Go To The Mall'…
A first proper trailer should be right around the corner, now that the third season is moving into post-production.
We'll bring you all the new developments as we get 'em.
Stranger Things season 3 release date
An exact release date has yet to be revealed, but we now know that season 3 will arrive in the summer of 2019.
Flip over to page 2, for more on the season 3 cast and story…
Stranger Things season 3 cast
Cary Elwes has been cast for a guest role as Mayor Kline. The character is described as "handsome, slick, and sleazy, your classic '80s politician – more concerned with his own image than with the people of the small town he governs." However, it was not specified if Kline presides over the show's town setting of Hawkins, Indiana.
Elwes's casting is another coup of a setting-appropriate former 80s star, since he is best known from his role as handsome hero Westley in the 1987 film classic, The Princess Bride, along with subsequent movie roles in Glory, Days Of Thunder, Hot Shots!, the Francis Ford Coppola-directed Bram Stoker's Dracula and as the titular star of Mel Brooks comedy Robin Hood: Men In Tights, with later roles in Kiss The Girls, the original Saw, and a recurring TV role on The X-Files.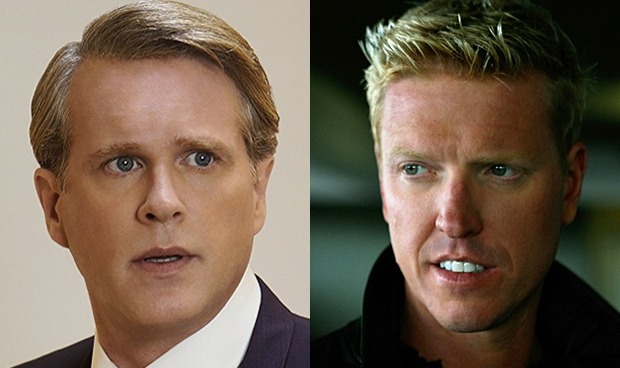 Jake Busey has also been cast for the role of Bruce. The character seems to be right up the actor's alley, described as "a journalist for the The Hawkins Post with questionable morals and a sick sense of humour."
Jake, the second-generation actor son of Gary Busey, has been acting since childhood, first appearing in the 1978 crime drama, Straight Time, in which his father co-starred with Dustin Hoffman. After grown roles in 1990s films PCU, S.F.W., Twister, The Frighteners and Contact, the junior Busey's acting career took off into space, literally, as part of the ensemble of Starship Troopers, and has since been a steady player in film and television. His most recent roles include TV runs on Agents Of SHIELD, Ray Donovan, Freakish and From Dusk Till Dawn: The Series. Amongst the upcoming film roles he has banked is a part in the upcoming sci-fi/action franchise revival, The Predator, in which he will, in poetic fashion, play the son of his father's Predator 2 character government agent Peter Keyes.
Obviously our regulars will be back, but Netflix also previously named some other newcomers, too.
Priah Ferguson, who played Lucas' little sister Erica, is now a series regular, so she'll show up in all eight episodes this year. Considering how much fun she was in the few minutes of screentime we got with her in season two, this can only be a good thing.
Maya Thurman-Hawke will play "an 'alternative girl' bored with her mundane day job. She seeks excitement in her life and gets more than she bargained for when she uncovers a dark secret in Hawkins".
Stranger Things season 3 story
Since we've only just been given the gift of Stranger Things' second season, we've got a bit of a wait in store for the third, and it seems that – love her or hate her – Kali is probably going to be a part of the ongoing story when the show returns.
In a new interview with Deadline, the Duffer Brothers have reflected on season 2 and looked ahead to season 3, addressing complaints about That Kali Episode with some serious bemusement.
"It feels weird to me that we wouldn't solve [Kali's] storyline. I would say chances are very high she comes back… We are [in] very early days on season three and we're still figuring it out." Matt Duffer explained. "I probably wasn't supposed to say that… That's not official, that wasn't an official announcement — we're just working on it, just for our own amusement…for fun!"
Feel free to select a "Deal With It" gif of your choice and mentally insert it here.
There's some good news for fans worried that season 3 will put the final nail in Will Byers' sanity: he'll be due a well-earned break when the darkness emerges from the shadows once more.
In a new interview with Glamour, executive producer Shawn Levy has confirmed that the third season will find lovable Will (Noah Schnapp) with his chin up.
"We're going to give Will a break," Levy explained. "We're not going to put Will through hell for a third season in a row. He'll be dealing with stuff, but he won't be at rock bottom the way we forced the amazing Noah Schnapp to play."
Indeed, a new kind of evil will be afoot in season 3, and for those wondering if Chief Hopper and Dustin will be forced to deal with the consequences of being exposed to that mysterious substance at the end of season 2, the answer is an oddly-shaped 'no':
"You might assume that," Levy said, addressing the plot's continuation. "But you would probably end up being wrong. We're [going to be] dealing with forces of evil that are new."
As for the burgeoning friendship between Steve (Joe Keery) and Dustin (Gaten Matarazzo), expect more Mama Steve in season 3. We'll definitely "get some Steve/Dustin action."
Season 3 will jump ahead a year to 1985, so expect Back To The Future references aplenty.
"Even if we wanted to hop into the action faster, we couldn't," Matt Duffer explained, "Our kids are aging. We can only write and produce the show so fast. They're going to be almost a year older by the time we start shooting season 3… [so] it forces you to do a time jump."
Stranger Things season 3 renewal
In an interview with New York Magazine, creators Matt and Ross Duffer previously confirmed that Netflix has already greenlit a third season of the show. They also revealed that there will likely be a fourth season that will probably be the show's last. 
"We're thinking it will be a four-season thing and then out," Ross told NYM. "We just have to keep adjusting the story," said Matt. "Though I don't know if we can justify something bad happening to them once a year."
It's true, after three straight years of monsters invading the town of Hawkins, Indiana, it might be time for the characters to pitch their tents elsewhere.
"They're going to have to get the fuck out of this town!" said Ross. "It's ridiculous!"
Yet, the official confirmation of season 3 and only season 3 may be telling, since there had been rumblings in the past that Netflix was contemplating filming back-to-back seasons to negate the power of puberty over its young primary cast.
While Netflix is notorious for keeping its viewership numbers a secret, Nielsen estimated that Stranger Things season 2 brought in 15.8 million viewers just in the U.S. in the first three days after its October 27 premiere, so it's a bit popular.