In 1993, Kevin Smith made a movie. Clerks was shot in black and white over the course of three weeks, at night, in the convenience store where Smith worked during the day, on a shoestring budget of $27,575. Smith funded the film himself by dipping into his savings, selling all his comics and maxing out several credit cards.
Even though it became an indie phenomenon when it was picked up by Bob and Harvey Weinstein's Miramax (who gave it a new soundtrack using a post-production budget that was ten times the cost of principal photography) at the 1994 Sundance Film Festival, it doesn't have 'franchise starter' written all over it.
Long considered a Gen X touchstone, Clerks is a funny and filthy slice of life movie, which equates a working day for Dante Hicks (Brian O'Halloran) to his namesake's Inferno. As he's visited throughout the day by big-mouthed video store colleague Randall Graves (Jeff Anderson), girlfriends past and present (Lisa Spoonauer and Marilyn Ghigliotti), and stoners Jay and Silent Bob (Jason Mewes and Smith himself), Dante's eternal refrain is that he's not even supposed to be at the Quick Stop today.
The film put Smith on the map in a big, bad way – he soon scored a deal to make his second film, Mallrats at Universal. This film would sow the seeds for his View Askewniverse, carrying over the Jay and Silent Bob characters (to whom Smith owned the rights) and beginning a New Jersey-centric cinematic universe that would continue with Chasing Amy and Dogma later in the 1990s.
But it's Clerks' own place within that fledgling comedic continuity that is most intriguing. Smith's iconic debut gave us his two most well known and revisited characters in Jay and Silent Bob, but Dante and Randall have also recurred, not only in films, but in comics and cartoons too. Here's how Clerks became an unlikely multimedia franchise.
TV spin-offs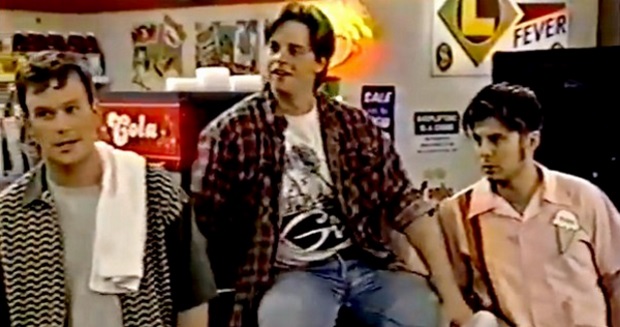 As mentioned, when Miramax bought the film at Sundance, they assumed control of the rights to everything except the characters of Jay and Silent Bob.
Off the back of Clerks' critical and commercial success, the mini-major studio partnered with Touchstone Television, Disney's television production arm, to create a TV pilot for a half-hour studio sitcom in 1995. Smith was never asked to get involved with this process, and indeed, he only discovered that it existed while filming Mallrats, when an actor who had read for one of the roles informed him that the script wasn't very good.
Written by producer Richard Day, the never-aired pilot is about as different from the famously filthy movie version as you would expect, taking in Dante's plans to go to law school and a prank involving graffiti on a water tower. There was no profanity and none of the film's cast were involved – although Jim Breuer had already been cast as Randall, but Anderson and O'Halloran both auditioned unsuccessfully for the part of Dante.
The characters were essentially the characters in name only. In fact, when Smith pointed out that he owned the rights to Jay (who appeared sans Silent Bob), the producers simply changed his name to Ray. At one point during production, he signed on as an executive producer.
Unsurprisingly, he became disillusioned with the creative differences on the show, especially after an episode he wrote was rejected, and took his name off the show. Smith and his stars all admitted they had a lucky escape when they saw how the pilot turned out.
As it stands, Clerks' only live action TV outing to date is the short film The Flying Car, which made its debut on The Tonight Show With Jay Leno in 2002. Anderson and O'Halloran reprised their roles for the six minute short, in glorious technicolour this time, as they sit in traffic and hold a philosophical debate about what they wouldn't give to own a flying car. It feels like it could have been a deleted scene from the original film, and given the limitations of trying to capture Clerks' essence on a broadcast network, it's as close as anything on TV was going to get.
Clerks: The Animated Series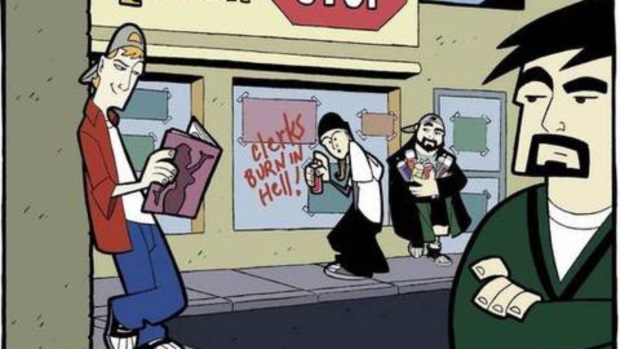 Despite this bad experience, Smith still harboured ambitions to continue Clerks on television. Having written comics that filled in the gaps between films for Oni Press, Smith pitched an animated series in the mould of The Simpsons, which he initially took to the highly receptive top brass at the UPN network.
However, complications with Touchstone holding the TV rights to the property actually provided a much bigger opportunity from Disney. They wanted a shorter run of six episodes for ABC, a major network, but promised ad space during the Super Bowl ahead of a March 2000 debut. This was a huge deal and Smith bowed to Disney's whim.
Clerks: The Animated Series was developed by Smith, his producing partner Scott Mosier and Seinfeld writer David Mandel (who went on to run HBO's Veep after Armando Iannucci departed) with a budget of $750,000 per episode. You could make almost thirty Clerks-es with that kind of dough, and the series certainly makes the most of both the animated and sitcom formats in a way that its low-budget source material could not.
Featuring the voice talents of the original cast, plus Alec Baldwin as eccentric New Jersey billionaire Leonardo Leonardo and NBA All-Star Charles Barkley as himself, the series amped up its pop culture references with elaborate parodies of films like Outbreak, The Bad News Bears and The Matrix. The most outrageous of these is still Flintstone's List, a mashed-up fictional film that Randall pops in the VCR as he waxes lyrical about the crossover between Steven Spielberg's keen commercial instincts and integrity as a chronicler of the Holocaust.
The second episode, The Clipshow Wherein Dante And Randall Are Locked In The Freezer And Remember Some Of The Great Moments In Their Lives, was particularly well received for its parody of the cost-cutting clip show trope. Only one episode into the series, they can only refer back to one clip from the previous episode, of Dante and Randall attempting the classic wall-scaling gag from the 1966 Batman series, which comes up repeatedly. There have been cleverer takes on this trope since, but it's goofy fun and it feels ahead of its time.
Regrettably, ABC welched on their commitment to the show in the same way that, say, Fox shafted Firefly. The Super Bowl spots aired as promised, but the show's debut proper was pushed back to May 2000, sacrificing any momentum. Then, bafflingly, the network aired the fourth episode, a strong Law & Order spoof that ends in an epic non-sequitur, first. The second episode aired a week later, even though the first episode with that oft-repeated clip had yet to be aired. Then ABC cancelled the show, citing low ratings.
Smith tore into the network's treatment of the show in a typically candid discussion with Entertainment Weekly that week, saying: "We told them everything that wound up in the f—ing shows. We didn't promise anything we didn't deliver, and we really didn't deliver anything we didn't talk about.
The day ABC announced its midseason schedule, we found out that suddenly we were moved to May 31. We were like, 'Why didn't they tell us this?' We couldn't get any answers. Nobody was returning any calls."
Comedy Central broadcast the entire series in one day in December that year, while UK viewers may have been able to catch it on ITV4 in a late Monday night slot, and it's through repeat broadcasts on other channels and home entertainment release that Smith's fans have come to appreciate the series. Like Phil Lord and Chris Miller's similarly short-lived Clone High, it's a show that feels ahead of its time, pre-figuring the heyday of Seth Macfarlane's animated shows and the increased availability of narrowcast comedy shows.
Undeterred, Smith kept on with the animated adventures, recreating a 'Lost Scene', which was scripted for the original film but was never shot due to budget reasons, for the excellent 10th anniversary edition DVD. He also spent several years afterwards planning a direct-to-video animated film called Clerks: Sell Out, which would have seen Dante and Randall make a film about their lives at the Quick Stop, mirroring the real-life production of Clerks.
However, around that time, the Weinsteins made an acrimonious uncoupling with Disney and Miramax. This soured Smith's connection with the rights holders at the House of Mouse, making it unlikely that he could continue the franchise in its animated form. Smith admitted that a Jay & Silent Bob animated movie was more likely than a Clerks one, a prediction that came to fruition with the more lo-fi Jay And Silent Bob's Super Groovy Cartoon Movie in 2013.
Clerks II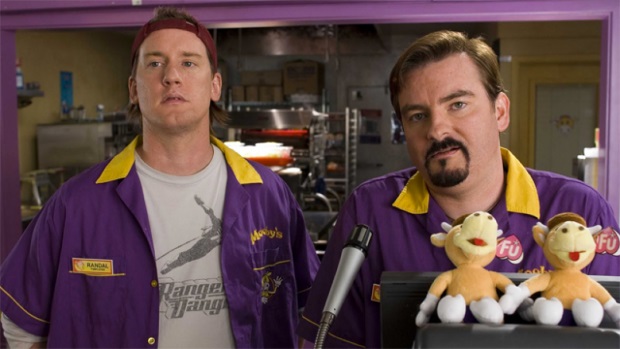 Smith initially planned to tie up his live action View Askewniverse with 2001's Jay & Silent Bob Strike Back, in which his Rosencrantz and Guildenstern-esque stoners took centre stage for the first time. That film was initially conceived as a project to keep his friend Jason Mewes, a recovering drug addict, on the straight and narrow, but the Blues Brothers-inspired caper comes out as a cameopalooza which revisits characters from all of Smith's previous films, including Alanis Morissette as God in a (pre-Marvel) post-credits sting.
Dante and Randall also make a comeback at the beginning and end of the film, still working in the Quick Stop and snarking about movies, and it's easy to imagine that this was the seed for what would become the proper Clerks sequel, five years later. The idea of a sequel had been a punchline before, teased in the end credits of Dogma as Clerks II: Hardly Clerkin', but when Smith began development in earnest, it became The Passion Of The Clerks, in reference to Mel Gibson's then-recent biblical blockbuster.
It was simply titled Clerks II when it arrived in 2006, distributed by The Weinstein Company, and picked up eleven years after the events of the first film with the Quick Stop aflame after Randall leaves the coffee pot on overnight. Forced to find new jobs, he and Dante wind up working at a branch of Mooby's (the fast food restaurant whose headquarters was attacked by vengeful angels Bartleby and Loki in Dogma), and the film charts another tumultuous day for the pair.
With a $5 million budget, the sequel was significantly more expensive, and shot mostly in colour, but the characters are at a suitably pathetic station in life many years later and it's good to check in with them. Dante is again torn between two implausibly interested women, this time played by Rosario Dawson and Smith's real-life wife Jennifer Schwalbach, and the restaurant setting only amplifies the audacity of the film's jawdropping 'interspecies erotica' finale.
Despite its excesses, it's a more sentimental work than Clerks, but that's all for the better. This is one of the very best early exhibitions of how Dawson can believably get on with just about anyone (a talent which has been an absolute godsend in certain of Marvel's Netflix shows), but Randall's eventual epiphany about buying the ruined Quick Stop and re-opening it themselves foreshadows Smith's own development as an artist, later seguing into self-distribution and gonzo indie experiments, like Red State and Tusk.
Clerks II is a worthy but different follow-up to the original, and was well received critically and commercially. In fact, at its midnight premiere out of competition at the Cannes film festival, it got an eight minute standing ovation from critics and filmgoers and went on to make $27 million worldwide.
Alas, certain cast and crew members, particularly Anderson, were unhappy with the usual unconscionable economics behind the film, which cut them off from any residuals from its success. This has led to audits and other behind-the-scenes disputes which have served to flummox further continuations.
Clerks III and beyond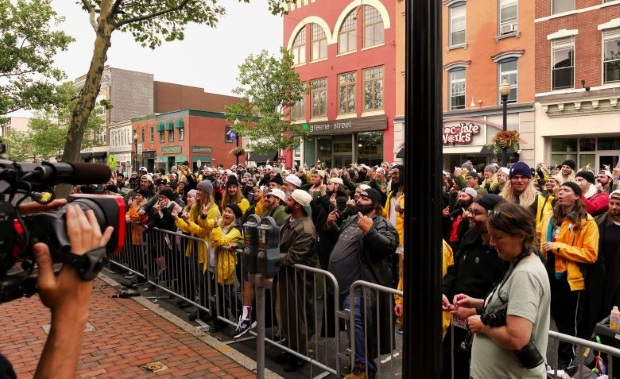 While promoting Clerks II, Smith mused that he had made the first two films in his 20s and 30s respectively and would hold off on the idea of going back to Dante and Randall until he was another decade older. After a brief and disappointing brush with the studio system on Zack & Miri Make A Porno and Cop Out, Smith announced he would make two more films before retiring from filmmaking – Red State and the as-yet unproduced hockey movie Hit Somebody – but still returned to the idea of a third Clerks.
In 2012, he expressed an interest in making it as a Broadway play, after seeing his friend Alan Rickman in a performance of Seminar. He had initially discovered Anderson and O'Halloran on the Jersey community theater scene and suggested that the dialogue-heavy style might lend itself to a stage production rather than another feature, given his reluctance to continue filmmaking.
As he kept postponing his retirement and began "chasing whimsy" through various mediums, Smith wrote a draft of Clerks III, and attempted to get it made in time for the 20th anniversary of the first film in 2014. As that deadline came and went, the film went through various stages of pre-production, including securing permission from the Weinstein Company and a funding agreement with Smith's producing partners on the podcast-inspired creature feature Tusk.
The sequel was finally killed off in February this year when Smith revealed that "one of our four leads has opted out of the flick." Given his reluctance over the second film and outspokenness on the financial fallout of that film, it has been broadly speculated that this was Anderson. Smith has hinted that Clerks III would be more Randall-centric, so it's understandable that the film can't go ahead.
As Smith continues to do pretty much whatever he feels like, his script for Clerks III might still materialise in another medium. A comic book adaptation seems like the most likely bet at this point – his previously unproduced screenplays for The Green Hornet and The Six Million Dollar Man have both been adapted into comics published by Dynamite, and Clerks already has illustrated form.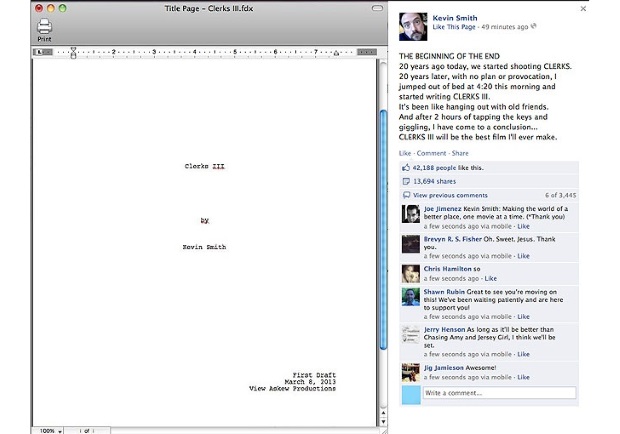 But then most of Smith's films to date have sprung out of Clerks, and he's pressing ahead with Jay & Silent Bob Reboot, a sequel to Strike Back in which the dynamic duo take on a studio blockbuster called Bluntman Vs. Chronic. He'll also tie his Canadian horror trilogy into the View Askewniverse by featuring the characters in the upcoming Moose Jaws (simply "Jaws, but with a moose") and he recently organised the largest gathering of Jay and Silent Bob cosplayers for his AMC show Comic Book Men (284 is the number to beat, if you're angling to top it).
This kind of multimedia franchise isn't bad going for a microbudget film that originally ended with its main character being gunned down senselessly in a store hold-up. Smith has since confessed that he shot that ending because he didn't know how else to end a movie at that point, but it's led his career down all kinds of other avenues.
Clerks never played like a franchise starter, but thanks to the removal of that bleak ending, it was never fully standalone either. It's one day in the life of its characters, and we've seen quite a few other days since. Many have written off the follow-ups as lesser or suggested that the ongoing franchise is now finished, but over the last 23 years, Kevin Smith has assured us, it's open.