Off the back of not very impressive reviews, the first film adaptation of Stephen King's The Dark Tower saga – starring Idris Elba and Matthew McConaughey – struggled to gain much traction at the US box office, only scrounging up $19.5m in its opening weekend. Whilst plans are still afoot for a television series based on the books, there are surely a few question marks over the planned film sequel to this particular movie.
If you were a fan of the film, or you want to grab a copy to see for yourself if it's any good, you'll be able to do so on the 31st of October if you're in the US (or if you have a region-free player and scoff at potential customs charges). The UK version won't be arriving until the 11th of December, however. Stocking filler?
The Dark Tower will be available across several formats, including Blu-ray, DVD, and 4K Ultra HD, and here are the extra features you can expect to find on the discs…
Deleted scenes
Blooper reel
A Look Through the Keyhole – three vignettes narrated by Roland and The Man in Black
5 behind-the-scenes featurettes:
Last Time Around 
The World Has Moved On…
The Man in Black
The Gunslinger in Action
Stephen King Inspirations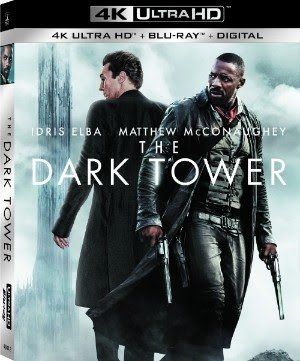 That's your lot. 
As always, we ask you to bear in mind that these releases can all vary by territory, format and retailer, so there could potentially be some further bits and bobs up for grabs with exclusive editions.