This article contains spoilers for the first season of Mindhunter, and Zodiac.
It's as though director and executive producer David Fincher posed us a very simple question: "what do you want?" And we replied "10 hours of Zodiac, please." To which, in his wisdom, he cheerfully responded "say no more fam."
Yes, 70s-set binge-fodder Mindhunter arrived on Netflix this past Friday and ended up monopolising our entire weekend – bums were not leaving sofas until we'd chained all 10 episodes of the relentlessly creepy (and unexpectedly funny) FBI drama, based on the legendary book Mind Hunter: Inside The FBI's Elite Serial Crime Unit, by John E. Douglas and Mark Olshaker.
After the final credits rolled, we were left with a few tantalising threads still dangling. What happened to that cat? Has Holden finally opened an emotional floodgate within himself that he'll struggle to shut? What happened to that cat? What penalties or punishment for their lies about the Speck interview will the unit have to endure? And DAMN IT what happened to that cat?
But our most intriguing question was…just who was the man we only saw tiny glimpses of throughout the series, meticulously planning awful things whilst keeping up a day job at ADT? Tying his nautical knots, burning his seriously 'disturbing' drawings…this guy was surely going to be one of the Big Ones, right?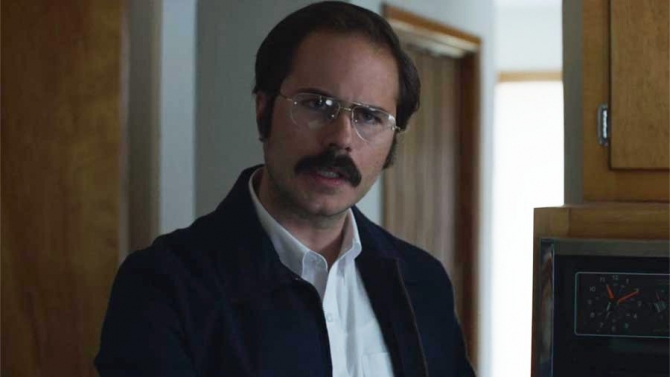 Well, with Fincher having already covered the exhaustive and ultimately open-ended search for the Zodiac killer in his 2007 masterpiece Zodiac, it looks like his Mindhunter team are going to have their very own ongoing frustrations with Dennis Radar, a.k.a. the BTK Killer, here portrayed by Office Christmas Party's Sonny Valicenti.
If you're not an expert on real life serial killers (and if you are, it's probably not something you'll readily admit to – at least, not since 'the incident') allow us to fill you in a bit on Radar, and why his appearance in the show speaks to its long-term plans.
[Note that we'll not be getting too detailed here. Not only because it's grim as hell – we're not quite as adept at disassociating as the persistent Holden Ford, played with aplomb by Kristoff from Frozen, otherwise known as Broadway star Jonathan Groff, who'll no doubt be absolutely huge after his turn in this – but also because we're not overly enamoured with dishing out potential spoilers here at Den Of Geek. As the show is based on true life crimes, you'd find all the details you needed on just a few Wikipedia pages anyway, if you so desired.]
The BTK – which stands for 'Bind, Torture, Kill' – Killer murdered 10 people in the Wichita, Kansas area from 1974-1991, and as those obscenely large white titles like to inform us when we check in on him in Mindhunter, the sinister dude in question is very much based there.
A family man with a degree in electronics, Radar spent his childhood torturing animals and eventually developed a fetish for ladies' underwear. Between 1974 and 1988, he installed tons of security alarms in his job at ADT (ironically, a lot of his customers were people living in fear of the BTK Killer). Later, he became a dogcatcher, and we probably don't need to tell you how that went.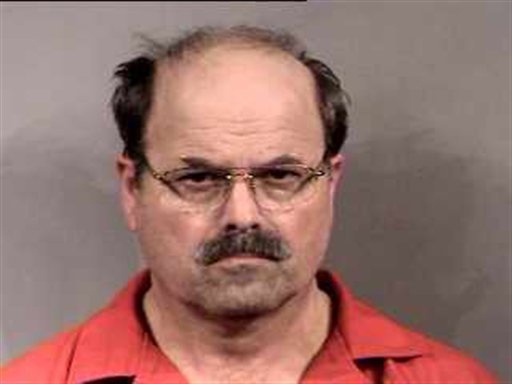 At one time both a cub scout leader and president of the local church council, he started his series of killings in earnest by slaughtering an entire family in 1974, but after that all his victims were women between the ages of 21 and 62.
The killer sent loads of taunting letters to police and newspapers about the murders over the years, a huge block of which arrived during the late 70s, and at one point during the first season of Mindhunter, we saw Radar simply mailing a letter. Timeline-wise, this could very well be an infamous one he sent to KAKE-TV in 1974, where he claimed responsibility for 7 of the murders he'd already committed.
The BTK Killer was able to carry on with his crimes despite these leads, and his appearances in the show are perhaps more intriguing knowing that he wasn't caught until 2005.
Could Mindhunter be looking to eventually bring Holden, Bill, Wendy and the rest of their slowly-expanding Behavioural Science Unit into the mid-00s, and give them some closure on their investigations? Or will it leave them haunted by their inability to catch him, much like Jake Gyllenhaal's obsessive cartoonist-turned-true crime author Robert Graysmith was in Zodiac? We'll have to wait and see, but later seasons could realistically include huge time jumps, if Radar's deeds continue to form little nuggets in the episodes' cold opens.
One thing is clear, however: we need season 2 immediately. Right now. We must have it. And although Netflix keep details of their plans pretty tightly under wraps, we heard earlier in the year that a second season was ordered fairly on in the process of bringing the project to life under the watchful eye of the streaming giant. So early, in fact, that filming is said to have already gotten underway on season 2 this past May, and is due to finish in December.
So we may not have to wait too long for more Mindhunter after all…