King Arthur: Legend Of The Sword had an extremely rocky road to the big screen.
Once billed as a Knights Of The Round Table cinematic universe-starter for Warner Bros, there was already a little blood in the water for Guy Ritchie's take on the Medieval tale when the initial release date got pushed back an entire year. When it finally arrived in cinemas a few months back, it was clear that there had been some big problems along the way, and the movie ended up being a massive flop for the studio.
If you were one of the people that went into King Arthur: Legend Of The Sword with low expectations and had a surprisingly fun time with the film, you might be looking to grab a copy to keep at home, so we've scrounged up some details on the release.
It'll be heading to DVD, Blu-ray 3D and 4K Ultra HD Blu-ray on August 8th in the US. We don't currently have the UK date, but we doubt it'll be too far behind.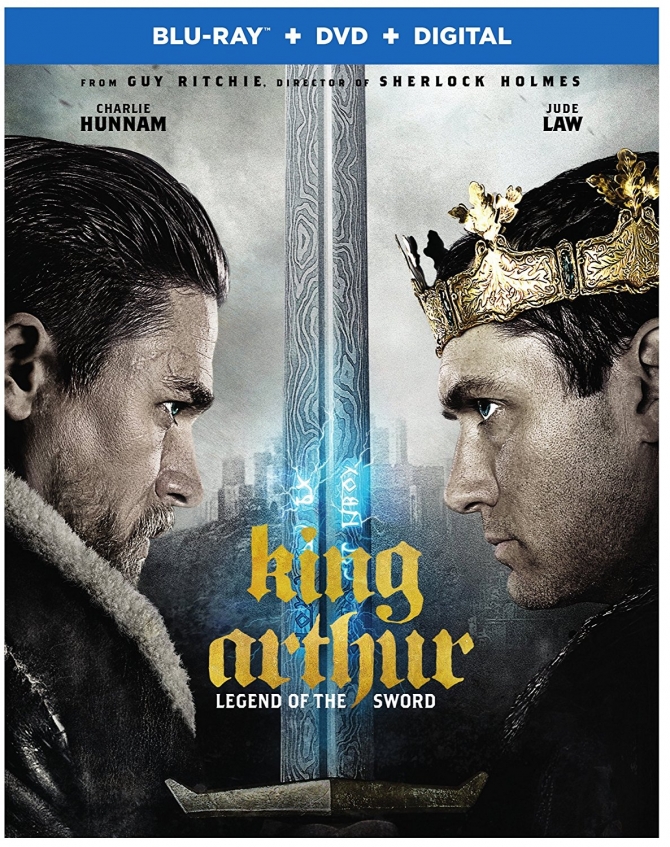 Here are some of the special features announced for the discs. Bear in mind that these can vary by territory and retailer:
Arthur with Swagger – Charlie Hunnam is a gentleman, a hunk and a rebel, setting new standards as king and new rules with the ladies.

Sword from the Stone – Director Guy Ritchie as he breathes 21st Century life and luster into England's most iconic legend and he creates Camelot for a new audience!

Parry and Bleed – Charlie Hunnam and other cast members get a crash course in swordplay. Vikings versus Saxons style!

Building on the Past – Londinium comes to life with a new design of Medieval Urban life, built from scratch.

Inside the Cut: The Action of King Arthur – Join stunt choreographer Eunice Huthart as she teams with Director Guy Ritchie to create the mind-blowing action of King Arthur

Camelot in 93 Days – Friendships and romances strengthen and fray as the realities of a 93 day shoot set in.

Legend of Excalibur – The world's most famous sword is brought to life for a new generation.

Scenic Scotland – Wrapping a monumental production on location in glorious Scotland.
That's your lot.
King Arthur: trailers
Guy Ritchie's King Arthur is a big film for Warner Bros. The studio is hoping it could launch a Knights Of The Round Table shared universe, banking in on the combination Ritchie's action flair (proven by his Sherlock Holmes films), an on-the-rise star in the shape of Charlie Hunnam (Pacific Rim, Sons Of Anarchy), some support from Jude Law and – apparently! – a celeb cameo from David Beckham.
The latest trailer King Arthur: Legend Of The Sword also landed at the start of the month. Take a look right here…
Here's the earlier trailer for the movie, if you haven't had chance to check it out yet…
Here's the first trailer, which just landed at San Diego Comic-Con…
And here was the next trailer we had…
King Arthur: cast
Quite an impressive group of actors has assembled for this one: Charlie Hunnam will star as King Arthur; Annabelle Wallis is Maid Maggie, Jude Law is Vortigern, Katie McGrath is Elsa, Eric Bana is Uther Pendragon; Aidan Gillen is Goosefat Bill Wilson, and Djimon Hounsou is Sir Bedivere. Merlin will be played by Kamil Lemieszewski. David Beckham has a cameo in the film, too.
Hunnam recently sat down with Empire to talk about the movie, and let's just say he didn't hold back…
"[Ritchie's] created a very rich, exciting world. I describe it to my friends as Lord Of The Rings meets Lock, Stock And Two Smoking Barrels. [It's] an unlikely marriage of two things, but it works," Hunnam said. "We wanted to make an ignoble Arthur, at least at first. We wanted him to feel contemporary, selfish, somewhat rough around the edges."
Hunnam also mentioned that the pair almost came to blows during auditions when Ritchie kept prodding him to stay in shape. "I said, 'You know what? Fucking stop the camera. I'm starting to lose my temper. I know those other pricks you've got reading for this role (rumoured to be the likes of Henry Cavill and Michael Fassbender). If you bring them in right now, I'll fucking fight them both at once for the role, and we'll see what's up with the physicality.' Guy said, 'Fucking hell, alright – calm down, mate.'" 
We officially do not want to get on his bad side.
King Arthur: director
Guy Ritchie is the man heralding King Arthur to the big screen this time around. The Snatch, Sherlock Homes, The Man From U.N.C.L.E. and Lock, Stock director also co-wrote the script with Joby Harold and Lionel Wigram, from a story idea by David Dobkin and Joby Harold.
The director has been chatting about bringing his Lock, Stock And Two Smoking Barrels vibe to the enchanting tale of King Arthur, which will see "naughty" young man Charlie Hunnam (Pacific Rim) start off on the back streets of old Londinium before he yanks that iconic sword from the stone.
"The fundamental challenge with King Arthur is to make him likeable," Ritchie said. "If you're not careful, he's worthy. And once someone's worthy they're not likeable. So we had to create a character naughty enough for us to like him and simultaneously have him go on a journey that makes him respectable."
And it's been further revealed that the new version of Arthur will grow up in an old brothel before using his hard-won street smarts to rise to the top. 
"He's more streetwise and rough around the edges than most of the Arthurs we've seen," Ritchie went on to explain to Empire. "He's a wide-boy scoundrel with a heart of gold, who has a healthy disdain for the ruling class."
Meanwhile, star Charlie Hunnam has been talking with Collider about the strange process of putting the movie together, and it seems that director Ritchie (Snatch) decided to do away with the typical table reads and cast get-togethers in favour of filming a sort of initial stage play of the film.
"We did something strange and wonderful," Hunnam explains. "I didn't think it was gonna work at all, but it did. Guy had this wacky idea that he wanted to take an afternoon before we started working and shoot the whole film in four hours on two or three cameras and in a room all in black. We shot the whole film, and that's where we met. That's where most of the cast met. It was a baptism of fire. It was such a high-energy, sort of anxiety-inducing experience."
Looking back, Hunnam believes it was a worthwhile endeavor. "I think there were several elements as to why it was useful to him. First and foremost it was sort of like a table read, but where he could actually see everything edited. Sort of like an elevated table read. Just to see the pace and the tone and a little bit of the dynamics between the characters. So that was the pre-production benefit of it. As we've gone on and they've been assembling different sequences that we've been shooting, we've been able to fill in the gaps with that stuff. So from about halfway into the filming they've had the whole film sort of edited with those sections that we hadn't shot yet filled in with that four-hour thing. Which has been really interesting and helpful to Guy."
But it turns out that there's also another fascinating reason why Guy Ritchie decided to put together this stripped-back blueprint of King Arthur first.
"Guy has a sort of inability to fully visualise or understand or even allow himself to get excited about a scene before we're actually on the day, on the set, in costume doing it," reveals Hunnam. "So it's all just sort of framework. So even in that four-hour get-down that we did, he would come in and be like, 'That's shit. That dynamic's not working. Let's say this. You say that.' It's a very freeing process. It sort of threw me a little bit for the first couple of weeks, because it's very dramatic."
And if, when you first heard that Guy Ritchie was doing a King Arthur film, you kind of thought to yourself "it'll probably be an origin story, but 'grimmer' and 'grittier'"? Welp… 
"As you would imagine, it's the origin story," Hunnam went on to clarify. "It's the sort of Arthur origin story, of his rise to the throne. So it's a reinvention certainly of the periods between him being estranged from his family and reuniting with his destiny, with sort of the royal lineage. It's a very different sort of rendering. Much grimmer and grittier, and in a certain way probably much more modern. The camaraderie feels sort of modern and easily recognizable as boys' banter, the sort of stuff Guy does very well. But I feel like the world and the pace of the whole thing feels very period. I don't think it feels like an uber modern rendering of it."
King Arthur: plot
Here's the official synopsis for the film…
Acclaimed filmmaker Guy Ritchie brings his dynamic style to the epic fantasy action adventure "King Arthur: Legend of the Sword." Starring Charlie Hunnam in the title role, the film is an iconoclastic take on the classic Excalibur myth, tracing Arthur's journey from the streets to the throne.
When the child Arthur's father is murdered, Vortigern (Jude Law), Arthur's uncle, seizes the crown. Robbed of his birthright and with no idea who he truly is, Arthur comes up the hard way in the back alleys of the city. But once he pulls the sword from the stone, his life is turned upside down and he is forced to acknowledge his true legacy…whether he likes it or not. Starring with Hunnam (FX's "Sons of Anarchy") and Oscar nominee Law ("Cold Mountain," "The Talented Mr. Ripley") are Astrid Bergès-Frisbey ("Pirates of the Caribbean: On Stranger Tides") as Mage; Oscar nominee Djimon Hounsou ("Blood Diamond," "In America") as Bedivere; Aidan Gillen (HBO's "Game of Thrones") as Goosefat Bill; and Eric Bana ("Star Trek") as Arthur's father, King Uther Pendragon.
Guy Ritchie ("The Man from U.N.C.L.E.," the "Sherlock Holmes" films) directed the film from a screenplay is by Joby Harold ("Awake") and Guy Ritchie & Lionel Wigram, story by David Dobkin ("The Judge") and Joby Harold. The film is produced by Oscar winner Akiva Goldsman ("A Beautiful Mind," "I Am Legend"), Joby Harold, Tory Tunnell ("Awake," "Holy Rollers"), and "The Man from U.N.C.L.E." and "Sherlock Holmes" producers Steve Clark-Hall, Guy Ritchie and Lionel Wigram. David Dobkin and Bruce Berman are executive producers.
King Arthur: sequel(s?)
This is just the start of Warner Bros' plans. If King Arthur becomes a hit, plans are in place to expand outwards from the film and create a Knights Of The Roundtable cinematic universe. If all goes to plan, six ideas for filmic instalments within this world are apparently standing by.
We'll bring you more news as we hear it.