For as long as I can remember I've loved superhero's and the idea of super beings. Growing up I remember a friend showing me grotesque Spawn & Lobo Comics and I absolutely loved them. I tried collecting but I didn't know where to get them from. I had to subdue my need for Comics by watching any comic related TV shows or films. The TV show Smallville really instilled my love for DC Comics and DC characters. I started collecting comics regularly about 5 years ago. A friend introduced me to my now local comic shop and I was hooked. I've got a monthly order with them and I try by online as well. At present I'm reading/collecting any work written by Scott Snyder , Tom King & Donny Cates. My favourite artist is Jock and Iv tried collecting all of his comic covers! Probably 75% with that collection.
Here's a picture of my Statues & Special Comics: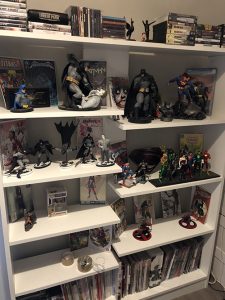 There's a few empty spaces there ,those are for a new Moon Knight statue and I'm hoping to find a Spawn statue that I really like. As you can see I have a little soft spot for the Dark Knight. Batman is definitely my favourite DC character. Moon Knight would be my favourite Marvel character.